Saint Andrew the Apostle Church Project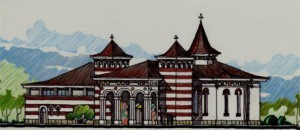 The land purchased by the Church Street 9111 River Rd., Potomac, Maryland, 3 acres proposed location of the Church "Saint Andrew" with a capacity of about 250 people and a social hall with attachments similar capacity. The church is made in Romanian Orthodox church tradition and will include an open porch, a lobby lift access, entrance and the church itself consists of nave with two aisles and the altar. However, the central volume is provided above the vestibule, a six floor withdrawn (mezzanine) for church choir. Annexes church: office, restrooms, technical and storage space are provided in the basement. Here, in the first stage temporarily set and dining space where the "folding partitions" will create space for classes and children.
Plan is working situation, besides accommodating church and outbuildings foregoing, green spaces, access roads and 65 parking places arranged. Outside the Church breathes traditional places of worship of the Romanian, and space is provided for murals like those we encounter the foundations of the church during the reign of Stefan the Great (eg. "Saint George" Voroneţ).
The architectural project was initiated in 2006 and it was reviewed and approved by the Commission Diocese of Religious Art which occasion His Eminence Archbishop Nathaniel had the kindness to give us valuable indications about fielding church vestibule access, size and height of the tower altar – elements that have already been incorporated into this project. From 2009 to 2014 the Construction Committee worked on revising new church plans: architectural plans, structural plans, mechanical plans, electrical plans, and site plan.
Construction Committee is composed of authorized specialists that are Montgomery County approved to signed architectural, structural, mechanical and electrical plans. It was not necessary to hire a company to coordinate with Department of Permitting Services (DPS). Our specialists do a pro bono work that saves the church of spending approximately $100,000.
Construction Committee is in contact with DPS and will submit the final plans to obtain the Construction Permit when construction funds are available.